The Magic is in the Fit
Comfort is personal. It's situational. Often inexplicable. But when you find it, it's magical. We call this comfort Merrell Magic.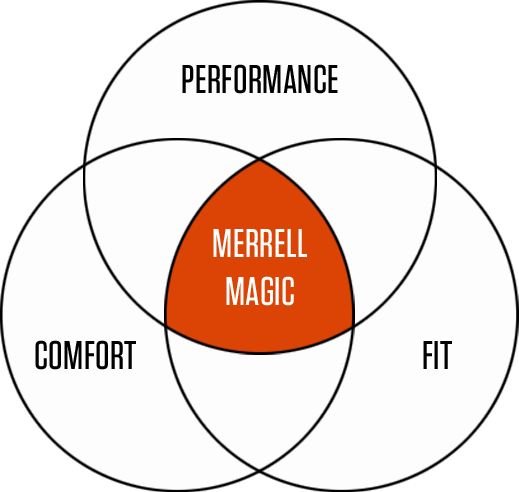 Find your fit. Feel the magic.
True comfort is a unique combination
of features for all different kinds of
people pursuing all different kinds of
activities outdoors.
Clark Matis | Randy Merrell
There's a saying in the shoe business: "the last comes first". And while Randy Merrell and Clark Matis didn't make it up, as Merrell's original design Magicians, they created a design philosophy around it. One that is still used to this day, ensuring every shoe we develop starts with fit.
Clark Matis

Randy Merrell
The Perennial
Merrell Magician

There's no doubt Clark Matis is driven. You don't become an All-American Olympian and avid outdoor enthusiast without being driven to be the best! This ambition is a magical mix of dedication and desire that shines through in his ongoing role leading Merrell's brand innovation team. Since the beginning he's been known to put every pair of Merrell's through its paces. Personally testing them to ensure they have the right combination of comfort, performance and stability.

Shop Moab

Clark is also the design wizard behind some of the most lasting and popular styles. His magic
can be found in the Wilderness, Moab, Chameleon and, of course, the iconic Jungle Moc. His
commitment to excellence is matched only by his passion for designing product and working to find
breakthrough innovations. Keep going Clark, we can't wait to see what magic you dream up next.

The Master
Merrell Magician

Randy Merrell, originally a custom cowboy boot-maker, broke new ground when he first applied his craft to hiking boots. At that time, boots were ill-fitting, heavy and stiff. He knew he could do better. And he did, quickly gaining a small, but loyal following of outdoor enthusiasts, who appreciated the comfort and functionality of the lightweight hikers. Randy's magical blend of materials and technique soon found their way to the masses in the form of a blue-laced hiking boot — the Wilderness. A style that's just as popular today.

Shop Wilderness

Randy has since left Merrell, but his uncompromising approach to boot-making live on in
every piece of footwear we create. It's the magic that remains – a commitment to comfort, design,
durability and versatility that was so important to Randy, and that we at Merrell have the
honor of continuing.