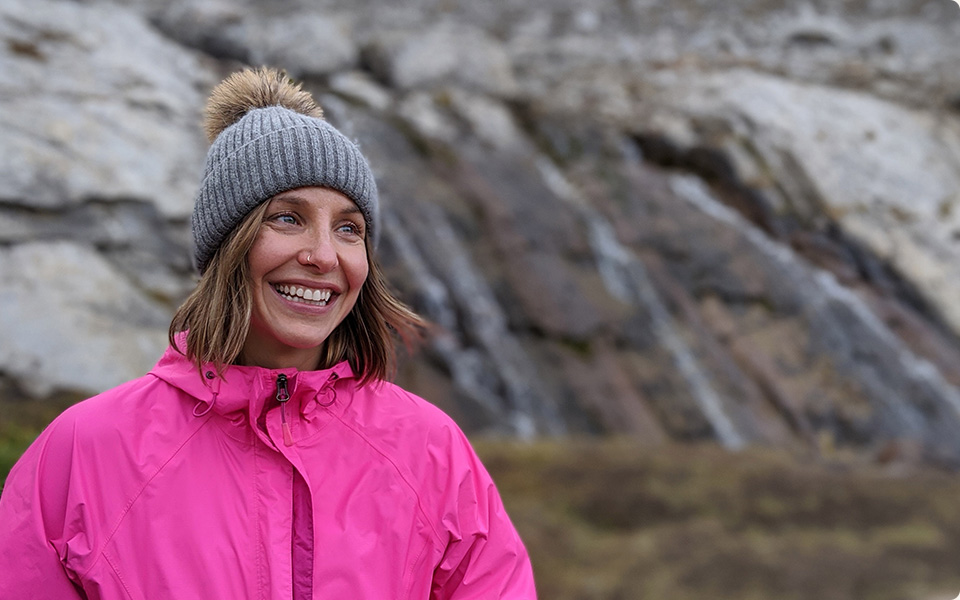 Cassie
Hawrysh
HOMEBASE: Calgary, AB located on the traditional territories of the Blackfoot Confederacy (Siksika, Kainai, Piikani), the Tsuut'ina, the Îyâxe Nakoda Nations, the Métis Nation (Region 3), and all people who make their homes in the Treaty 7 region of Southern Alberta.
For me, getting outside is to reconnect with nature, with my thoughts, with my breath; with myself. I'm inspired to get on the trails to see the world from a new perspective, to find new paths, to connect with friends (new and old), and ultimately, to experience as much of the world as I can.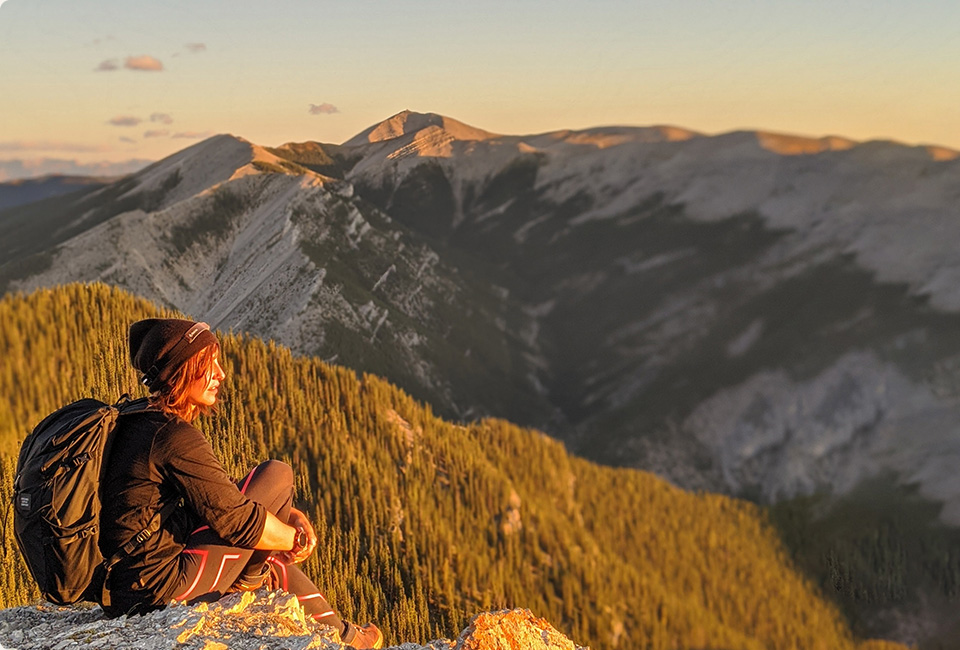 Frozen Lake Kananaskis, Alberta

|

Moderate
This is a 13.8 km out and back trail with an elevation gain of 865 m. It's a very well marked trail starting with a nice easy walk through the woods with lots of flowers and stream crossings for first 5 km or so, with a steeper section for the final 2 km to get to the lake - but you will be rewarded for your efforts, and can even enjoy a refreshing dip. The scenery throughout is beautiful (occasional wildlife sightings), and the lake is truly a hidden gem.
3 hours + travel time
Bear spray, water, snacks, and a blanket that you can lay out next to the Lake and enjoy a serene moment.
Adventure – Out in nature, away from an urban centre.


Moderate – Getting the heart rate going. Mixed terrain, elevation increasing, up to 4 hours.


To me, hiking means freedom.
It's a chance to see the world
from a new perspective."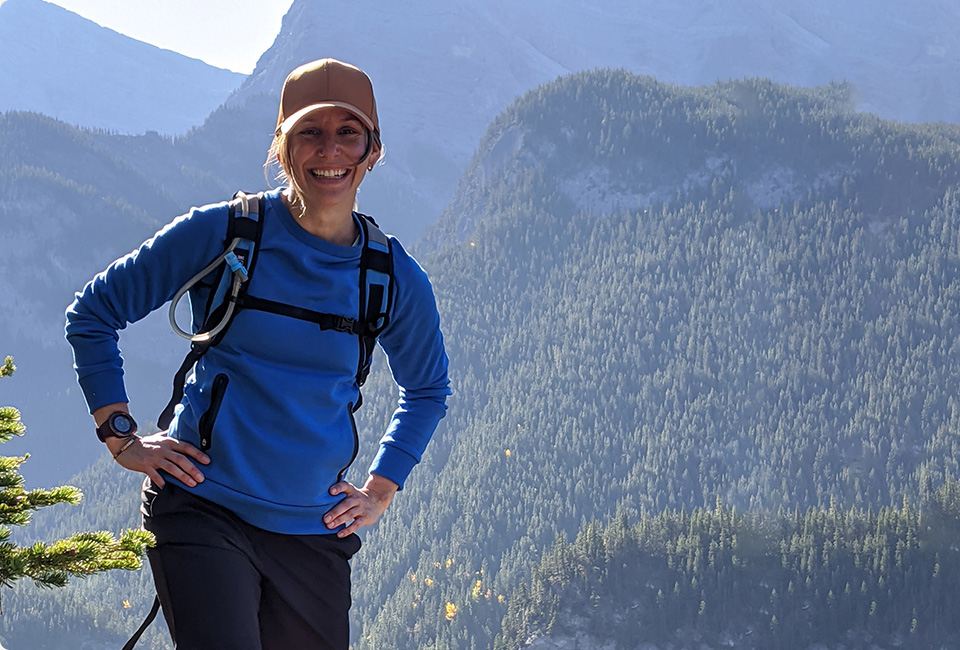 Field Notes:
• This was one of my very first longer hikes in the Kananaskis area, and driving the extra distance to get to this trailhead was 100% worth it. There were only 2 or 3 other people on the trail the entire time, which is so rare.
• The moderate level makes this a great option for a steady hike or a fun trail run.
• Poles can be helpful for a couple of areas. Especially if it has recently rained, some sections can be a bit slippery.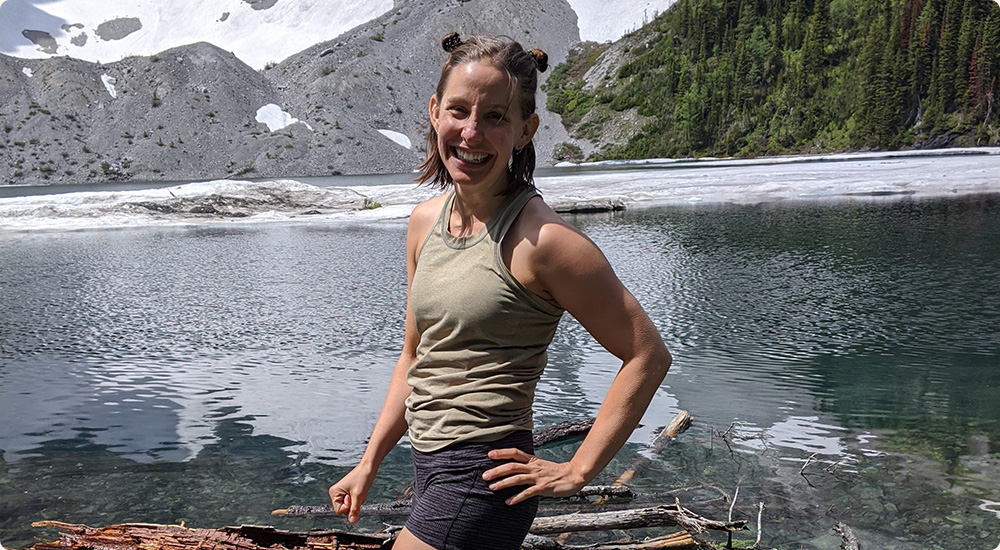 Q&A
Why do you love hiking?
Hiking, walking, and running are the purest forms of using our bodies to move. I love the way these activities are 'choose your own adventure'. If I want to take it easy, I go slow and steady. If I want a challenge, I can ramp up the speed and feel the wind in my hair. To move is to be human.
What is your hiking essential and why?
I never get to a trail head without my hiking poles. I wasn't always keen on poles, I used to think they were only for the older, slower crowd - but I couldn't have been more wrong. Hiking poles help me stay stable and to efficiently climb and descend, they actually support me in hiking faster - they are my (not so secret) weapon.
Why is it important to wear the right shoes?
Having spent a major part of my life as a member of Team Canada, I know that the right shoe matters. Fit, style, function, and comfort mean the difference between a sore foot (which can lead to other injuries!), or a healthy, happy, strong base for whatever the journey ahead throws at you.