Tested in a place where winter never ends.
Canadian winters are harsh. With the Merrell® boot collection featuring Arctic Grip, we've developed a line of boots that can stand up to it.
Meet Lindsay
Slip and fall injuries are the most common cause of hospitalization in Canada.
In the winter of 2006, Lindsay slipped on an innocuous section of wet ice at the end of her driveway. The fall shattered her elbow, requiring multiple surgeries (and 14 metal pieces), and doctors said her arm would never be the same again. After extensive physiotherapy, her strength has returned, but the fall has left her with an understandable fear of walking on ice.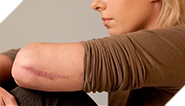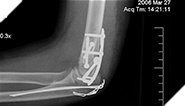 See Merrell
®

and Vibram

®

Arctic Grip in action
Facing fear. One degree at a time.
A traumatic fall on slippery winter ice left Lindsay with a seriously damaged elbow and an understandable anxiety about walking on ice. Watch as she faces her fear, with Merrell® boots outfitted with Vibram® Arctic Grip.
MOAB FST ICE+ ALL DAY COMFORT IN
UNCOMFORTABLE PLACES

Unmatched traction on
slippery winter surfaces.
When it comes to traversing icy winter conditions, whether on the trails or the sidewalk, it's all about the tread. Specially engineered to perform on wet ice, the ground-breaking technology of Vibram® Arctic Grip will give you the confidence you need to enjoy the Canadian winter.
Merrell
®

Boots featuring Arctic Grip Technology
Most boots fail at 7 degrees. We go way beyond that.
The test is simple. We take a wet, icy surface and make it even more treacherous: by increasing the angle of the floor. The result replicates the sensation and perils of walking up icy slopes.
Experience Arctic Grip
Experience the Winter Lab for yourself.
We're taking Winter Lab on the road. Join us on the dates below and put Arctic Grip to the test.
ONTARIO
November 11 -

Sport Chek Sherway Gardens, Toronto
Hours: 10 am - 5 pm

November 12 -

Sport Chek Yorkdale, Toronto
Hours: 11 am - 5 pm
ALBERTA
November 18 -

Sport Chek South Centre, Calgary
Hours: 10 am - 5 pm

November 19 -

Sport Chek/Atmosphere Combo West Edmonton Mall
Edmonton, Hours: 11 am - 5 pm
BRITISH COLUMBIA
November 25 -

Robson Sport Chek, Vancouver
Hours: 10 am - 5 pm

November 26 -

Atmosphere Park Royal, Vancouver
Hours: 11 am - 5 pm
HALIFAX
December 2 -

Sport Chek/Atmosphere Halifax Shopping Centre
Hours: 10 am - 5 pm
Filter By: